Longxin Machinery is a high-tech enterprise specializing in industrial pipe cutting machine production and pipe cutting processing. It has deep requirements for various square pipes, round pipes, elliptical pipes, stainless steel pipes, copper pipes, aluminum pipes and iron pipes. Product processing technology, the company's metal laser pipe cutting machine cutting pipe technology, cutting pipe thickness and pipe cutting speed and cutting form in the same type of equipment in the cutting pipe production and processing technology is unique. We produce high quality, high precision and high efficiency laser cutting pipe processing products for domestic and foreign customers. Laser cutting tube machine is widely used in: electric power, mechanical equipment, hotel kitchen equipment, elevator equipment, advertising signs, hardware parts, auto parts, furniture parts, lighting accessories, bathroom accessories, medical equipment, fitness equipment, craft jewelry and other industries . Longxin Machinery warmly welcomes users from all industries to visit and inspect.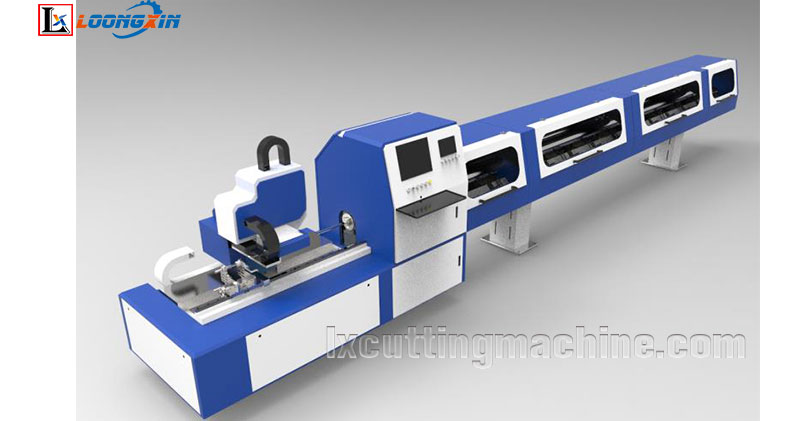 Laser cutting machine features:
1. The cutting precision of the laser pipe cutting machine can reach 0.1mm, and the end of the cylindrical intersecting line can be cut at the end of the branch pipe to meet the conditions of the vertical intersection and the oblique intersection of the axis of the branch pipe and the eccentricity and non-eccentricity of the main axis.
2. The laser pipe cutting machine can cut a plurality of cylindrical intersecting line holes of different directions and different diameters on the main pipe, satisfying the condition that the branch pipe axis is perpendicular to the eccentricity and non-eccentricity of the main pipe axis, and can process the pipe and the square of 8.5 m length. tube.
3. The truncated end face can be cut at the end of the round pipe, and the square hole, the waist hole can be cut on the round pipe, and the end of the branch pipe intersecting with the ring main pipe can be cut.
4, can cut the variable angle groove surface, can cut the steel pipe, can cut various graphics on the square pipe surface
5, laser pipe cutting machine is suitable for stainless steel, carbon steel, alloy steel, aluminum, copper, titanium and other metal pipes.
Laser cutting machine product parameter processing format 6500*300mm
Operating speed ≤100m/min
Acceleration ≤1.0G
X/Y positioning accuracy 0.05mm/min
X/Y repeat positioning accuracy ±0.05mm
Working voltage 380V±0.5% 50HZ
Laser power 1000W-2000W
The total power of the whole set of equipment <30KVA
Machine operating temperature 0°C-40°C
Machine operating humidity <90%
Machine weight 11000KG
Appearance size 12000*4500*2400mm
Transmission method Precision screw, rack and pinion
Processing range φ20-φ120mm*6500mm
□20-□150mm*6500mm